This page has information and links for voting early and on Election Day: Tues. November 3rd, 2020.
Election Day, Tuesday, November 3, 2020
OFFICIAL DEMOCRATIC ENDORSED CANDIDATES
San Bernardino County 2020
Click on the image to download a printable PDF list of all OFFICIALLY ENDORSED DEMOCRATIC CANDIDATES in San Bernardino County for the March 3, 2020 Presidential Primary. Endorsements for November 3rd are pending.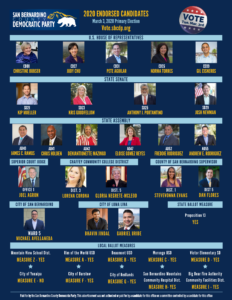 ---
Election Day is Tuesday, November 3, 2020
Polls are open from 7:00 a.m. to 8:00 p.m. (anyone in line by 8pm will vote)
ABSENTEE VOTING begins October 3rd, 2020
Vote Early:  See local polling locations throughout San Bernardino County: See Early Voting Locations
FIND YOUR POLING PLACE on Election Day:
San Bernardino Co Registrar Polling Place & Voter Guide Lookup
Alternates: CA Secretary of State Polling Place Locator or GetToThePolls
You can also find your polling place via your mobile phone.
Text "VOTE" or "VOTO" to GoVote (468-683).
General Voter Infomation
Follow this link to find answers to most questions about voting:
How to Vote in San Bernardino